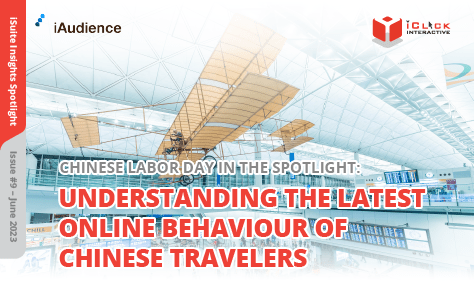 iSuite Insights Spotlight - Issue #9 Understanding The Latest Online Behaviour Of Chinese Travelers
The Chinese Labor Day Holiday is an exciting time for the tourism market. The 2023 Labor Day Holiday is the first "Golden Week" holiday since lifting travel restrictions. It showcased a remarkable surge in outbound travel, with spending surpassing pre-pandemic levels. Data from Ctrip shows that overall outbound travel booking volume climbed by about 700% compared to the same period in the previous year, with outbound air ticket and hotel booking volume jumping by almost 900% and 450%, respectively, compared to the same period in 2022.
Based on iAudience and iFans data, we have traced and profiled Chinese netizens who actively followed Labor Day Holiday-related topics, highlighting their audience profiles, preferences, and online behaviors, providing valuable strategic insights for marketers targeting Chinese travelers.
AUDIENCE DEMOGRAPHICS
---
AUDIENCE INTERESTED CATEGORIES
Audiences are interested in topics related to Travel & Hotel, Transportation & Ticket, and Finance.
AUDIENCE GEOGRAPHIC LOCATIONS
---
PUBLIC OPINION KEYWORDS
Travel Activities: Duty-free Shopping1, Zibo Barbecue2, Camping3
Travel Style: Domestic Travel1, Outbound Travel2, Road Trip3
Travel Information: Subsidy1, Welfare2, Guideline3
Duty-free shopping, Zibo Barbeque, and Camping are popular travel activities among Chinese travelers.
---
PUBLIC OPINION SOURCES
Haikou, Zibo, Hong Kong, Thailand, and Japan are the top travel destinations during Chinese Labor Day.
PUBLIC OPINION SENTIMENT TENDENCY
---
PUBLIC OPINION SNAPSHOTS
Audiences actively debated and discussed the Special Holiday Arrangements of Chinese Labor Day.
iSuite Insights Spotlight – Issue #5 Tapping into the Emerging Trend of Chinese Metaverse Fashion Through iAudience
In recent years, Metaverse became one of the buzzwords, a concept linked with technologies such as augmented reality (AR), virtual reality (VR), artificial intelligence (AI), and the Internet of Things (IoT) and has elevated buzz in countries such as China. According to iiMedia Research, a survey conducted in 2021 among Chinese netizens, over 70 percent of respondents stated that they had a sufficient understanding of metaverse, the most popular applications were game IP avatars, followed by personal and community virtual spaces. Riding on the growing popularity of the metaverse, fashion brands can now interact with consumers in more diversified touchpoints, bringing new virtual shopping experiences to the industry. According to China Metaverse Investment and Financing Data Report, China's metaverse industry has received at least USD 780 million investment in 2022. With the emergence of the metaverse, Chinese fashion brands can engage their customers more digitally and creatively. Check out our 5th issue of "iSuite Insights Spotlight – Chinese metaverse-related fashion brands in the Spotlight", leveraging the latest Chinese netizens' data provided by the iAudience platform to understand the profiles, demographics, and psychographic dimensions of audiences interested in metaverse fashion.