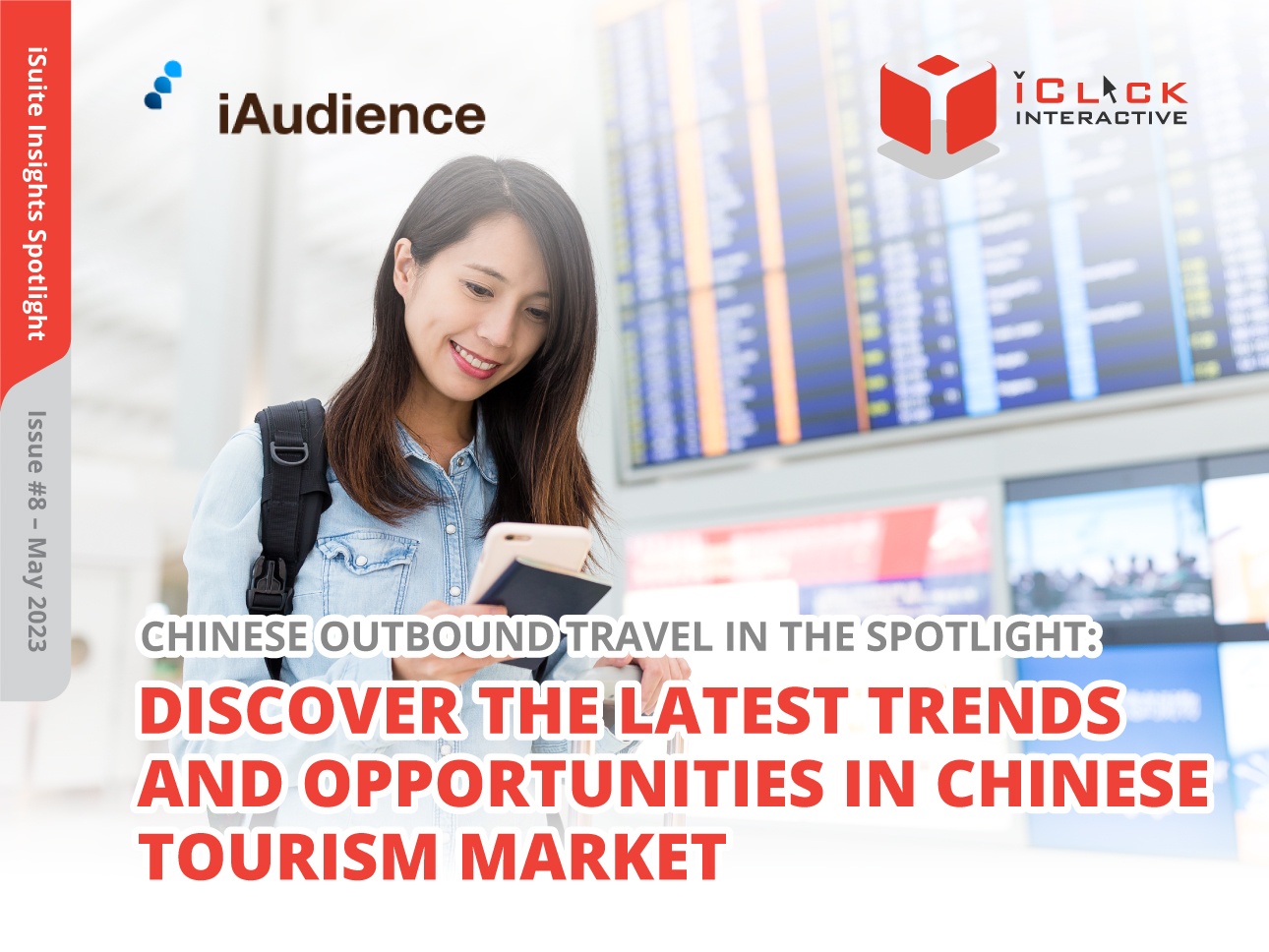 iSuite Insights Spotlight - Issue #8 Discover the Latest Trends and Opportunities in Chinese Tourism Market
China is one of the largest travel and tourism markets in the world. Despite the challenges posed by the pandemic, the outlook for Chinese outbound tourism remains optimistic, with a strong rebound expected in the coming years. According to the forecast of China Outbound Tourism Research Institute, the number of outbound trips is expected to reach 115 million by the end of 2023, showing a strong desire for overseas travel.
Based on iAudience and iFans data, we have traced and profiled Chinese netizens who followed Chinese outbound travel-related topics, analyzing their audience profiles, preferences and online behaviors to understand the trends and factors driving Chinese outbound travel.
AUDIENCE DEMOGRAPHICS
• The majority audiences of Chinese outbound travel are Female Adult (25-34).
---
AUDIENCE INTERESTED CATEGORIES
AUDIENCE GEOGRAPHIC LOCATIONS
---
PUBLIC OPINION KEYWORDS
Travel Destinations: Bangkok1, Phuket Island2, Thailand3
Travel Factors: Visa-free1, Visa2, Nucleic Acid Test3
Travel Seasons: May Labor Day Holiday1, Spring Festival Holiday2, Spring3
Online Travel Agencies: Ctrip1, Qunar2
• Audiences tend to book their trips through Online Travel Agencies (OTAs) like Ctrip and Qunar.
---
PUBLIC OPINION SOURCES
PUBLIC OPINION SENTIMENT TENDENCY
• Audiences rely on social media platforms such as WeChat, Douyin and Red to research and plan their trips.
---
PUBLIC OPINION SNAPSHOTS
• Top destinations for Chinese travelers are APAC countries. E.g. Thailand, South Korea, Maldives, Hong Kong and Macau.
iSuite Insights Spotlight - Issue #13 Tapping Into Double 11's Success and Consumer Insights
Double 11 is one of the most significant and iconic online shopping events in China, characterized by substantial discount offers and massive consumer spending. The best price guarantee is one of the notable trends of this year's Double 11, which aims to offer lower prices and faster delivery to boost sales among sophisticated Chinese consumers.