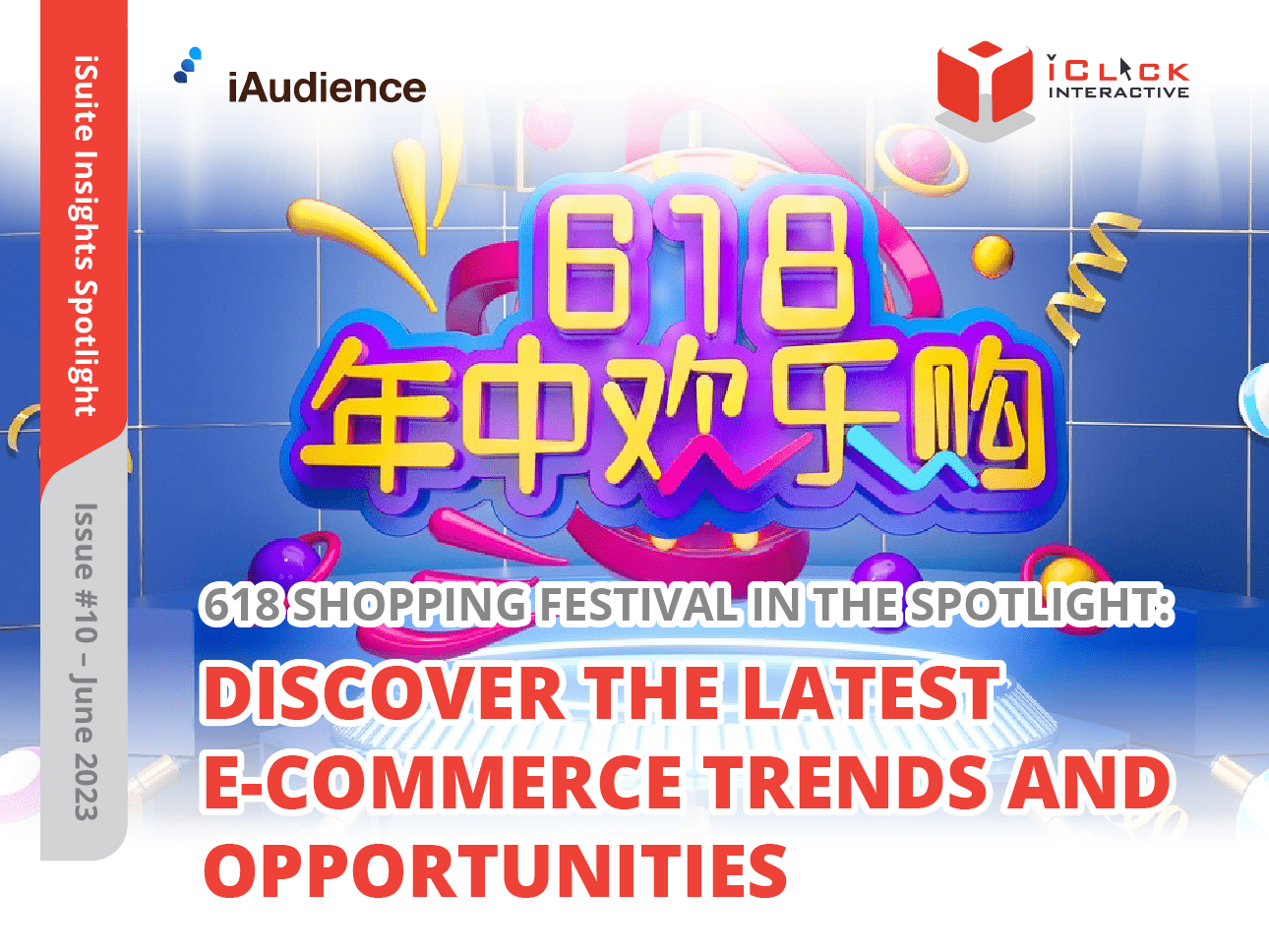 iSuite Insights Spotlight - Issue #10 Discover The Latest E-commerce Trends And Opportunities
The 618 Shopping Festival, originating from the Chinese e-commerce giant Taobao, has evolved into a massive shopping extravaganza in the Chinese e-commerce market. Today, it includes many other prominent platforms like Alibaba's Tmall, Douyin, and Xiaohongshu, magnifying its reach and impact. According to Iqingyan's statistics, Douyin's 618 pre-sales of beauty products have reached 3 billion to 3.5 billion yuan, an increase of 60% YoY. The Douyin channel is an important source of growth in the industry and may become the focus for brands.
Based on iAudience and iFans data, we have traced and profiled Chinese netizens who actively followed 618 Shopping Festival-related topics, highlighting their audience profiles and online preferences to understand the targeted Chinese consumers.
AUDIENCE DEMOGRAPHICS
TREND OF AUDIENCE SCALE
Five days prior to the 618 shopping festival, the number of audience reached its highest level and remained high.
AUDIENCE INTERESTED CATEGORIES
Audience-interested categories are Clothing & Accessories, Hobby & Entertainment, and Cars.
PUBLIC OPINION KEYWORDS
E-commerce Platforms: Douyin1, Baidu2, Xiaohongshu3
Livestreaming: Livestreaming Ecommerce1, Messi2, Yangge3
Promotions: Pre-sales1, Limited Time Offer2, Limited Offer3
KOL-hosted Livestreaming is one of the highlighted promotions during the 618 Shopping Festival.
HOT SEARCHES ON WEIBO
Hot searches on Weibo are mainly related to the 618 Shopping Festival.
TOP 5 SHORT VIDEO PLATFORMS
Livestreaming and Short Video Platforms are increasingly significant in the Chinese 618 Shopping Festival.
PUBLIC OPINION SNAPSHOTS
In a fiercely Competitive Market, attracting and maintaining traffic is more challenging for brands.
iSuite Insights Spotlight – Issue #5 Tapping into the Emerging Trend of Chinese Metaverse Fashion Through iAudience
In recent years, Metaverse became one of the buzzwords, a concept linked with technologies such as augmented reality (AR), virtual reality (VR), artificial intelligence (AI), and the Internet of Things (IoT) and has elevated buzz in countries such as China. According to iiMedia Research, a survey conducted in 2021 among Chinese netizens, over 70 percent of respondents stated that they had a sufficient understanding of metaverse, the most popular applications were game IP avatars, followed by personal and community virtual spaces. Riding on the growing popularity of the metaverse, fashion brands can now interact with consumers in more diversified touchpoints, bringing new virtual shopping experiences to the industry. According to China Metaverse Investment and Financing Data Report, China's metaverse industry has received at least USD 780 million investment in 2022. With the emergence of the metaverse, Chinese fashion brands can engage their customers more digitally and creatively. Check out our 5th issue of "iSuite Insights Spotlight – Chinese metaverse-related fashion brands in the Spotlight", leveraging the latest Chinese netizens' data provided by the iAudience platform to understand the profiles, demographics, and psychographic dimensions of audiences interested in metaverse fashion.