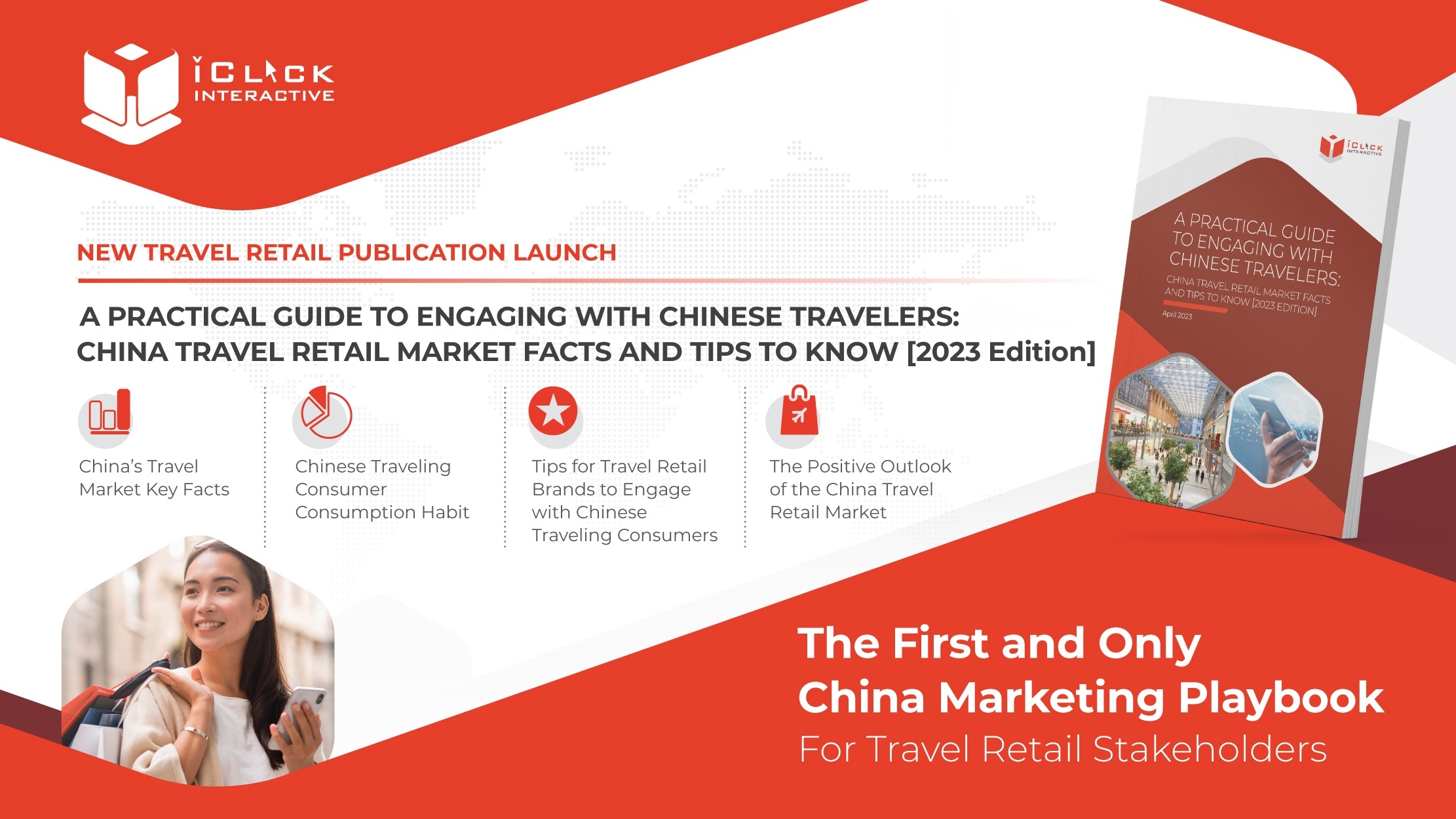 iClick's New Travel Retail Publication Launch - "A Practical Guide to Engaging with Chinese Travelers: China Travel Retail Market Facts and Tips to Know [2023 Edition]
We are glad to announce that the digital version of iClick's latest publication on travel retail "A Practical Guide to Engaging with Chinese Travelers: China Travel Retail Market Facts and Tips to Know [2023 Edition]" has been released today to coincide with iClick's presence at the prestigious TFWA Asia Pacific Exhibition & Conference (May 8-11).
The publication highlights a positive outlook for the travel retail industry in China. While the pandemic had a significant impact on the travel retail industry, as international travel bounces back to pre-pandemic levels and the global economy recovers, the development of travel retail will progressively get back on the right track, and China is leading the way. China Duty Free Group's predictions are that the total consumption of duty free goods in China will reach RMB 614 billion (USD 89.6 billion) by 2025.
The official launch of the publication will be held from 11am-12pm tomorrow (May 9) at the TFWA i.lab Asia Area, Level 1 of MBS in Singapore, where one of the authors will be sharing the key findings in person and giving out free printed copies. Make sure to check the session out! A digital copy of this mandatory reading for those interested in winning over Chinese traveling consumers is also available for download now.
Click here to download the full report.
iSuite Insights Spotlight – Issue #5 Tapping into the Emerging Trend of Chinese Metaverse Fashion Through iAudience
In recent years, Metaverse became one of the buzzwords, a concept linked with technologies such as augmented reality (AR), virtual reality (VR), artificial intelligence (AI), and the Internet of Things (IoT) and has elevated buzz in countries such as China. According to iiMedia Research, a survey conducted in 2021 among Chinese netizens, over 70 percent of respondents stated that they had a sufficient understanding of metaverse, the most popular applications were game IP avatars, followed by personal and community virtual spaces. Riding on the growing popularity of the metaverse, fashion brands can now interact with consumers in more diversified touchpoints, bringing new virtual shopping experiences to the industry. According to China Metaverse Investment and Financing Data Report, China's metaverse industry has received at least USD 780 million investment in 2022. With the emergence of the metaverse, Chinese fashion brands can engage their customers more digitally and creatively. Check out our 5th issue of "iSuite Insights Spotlight – Chinese metaverse-related fashion brands in the Spotlight", leveraging the latest Chinese netizens' data provided by the iAudience platform to understand the profiles, demographics, and psychographic dimensions of audiences interested in metaverse fashion.